How does it work?
Chlorofill pot has built-in water storage that provides just the right amount of water to the plant without requiring an active everyday watch. It is supported by a mobile app that reminds you when you need water or fertilizer refills.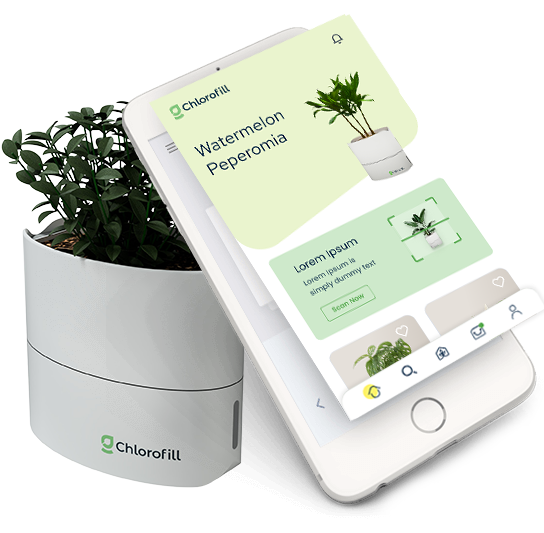 About Chlorofill
Chlorofill adds the freshness of green foliage. Its new-age design adds a style update to your living space.
Chlorofill pot has water storage at its bottom which supplies a constant and adequate moisture for the plants through the capillary action of the cotton wicks. Every pot has a QR code that directs you to download the Chlorofill mobile app and track the plant. The app bothers you no more than once a month in terms of water refill.
Order Now
Take a look
​​Chlorofill app is a great help to track nutrition and health of every plant.
Why Chlorofill?
Chlorofill is a patented product developed after four years of intense research. We have tried our best to make indoor gardening as effortless as possible.
Water level indicator
A transparent indicator present on the water storage is your visual alert for water in the reservoir.
Timely reminders
The Chlorofill mobile app sends you a consolidated timely reminder when it is time to water your plants.
Unique design
Chlorofill has concealed built-in side ports to fill the water reservoir. The design is perfect for narrow spaces such as windows.
Low maintenance
Change cotton wicks once in 2 years, fertilize once in 3 months and water plants once a month.
User-friendly app
You can track all your plants with a single mobile app. Order more Chlorofill pots & plant supplies from your app.
Optimum watering
The capillary action-based watering ensures adequate and constant water supply to the plant, eliminating chances of underwatering or overwatering.